GREEN LINE AUTOMOTIVE TO SUPPORT SAGE KARAM AT MARTINSVILLE & PHOENIX
Nascar Martinsville Truck Race Sponsorship Announced
FOR IMMEDIATE RELEASE
Statesville, N.C. (October 28th, 2021) - Jordan Anderson Racing (JAR) has announced that GREEN LINE AUTOMOTIVE will join Sage Karam as a sponsor for the NASCAR Martinsville Truck race this weekend as well as for the NASCAR Xfinity race on November 6th in Phoenix, Arizona.
Sage Karam will make his 4th NASCAR series start this weekend in the #3 Chevy Silverado for JAR; only his 2nd oval start since making his transition from IndyCar to NASCAR. His first oval start was last month at Bristol Motor Speedway where he recorded an impressive 16th place finish in the JAR #31 Chevy Camaro.
Joining the team as a sponsor for the last two races of the season is GREEN LINE AUTOMOTIVE out of Chicago, Illinois. "It's great that GREEN LINE AUTOMOTIVE can join us for the last two races of the year. The quality of products that they deliver to their customers certainly aligns with the same values and work ethic we put in here at JAR. I hope to deliver a few sold finishes for them at Martinsville and Phoenix" said Sage Karam.
"We're thrilled to join many of our partners in sponsoring Sage in his upcoming races," said Brent Rogers, Vice President of GREEN LINE AUTOMOTIVE. "We believe in high performance in all aspects of life and that Sage embodies that as a young rising star in the NASCAR world."
GREEN LINE AUTOMOTIVE is a high performance digital marketing agency delivering tier one level advertising expertise, technology, and service to the tier three dealers. Their focus is on giving every dealer the best in technology with a fully customizable approach giving an undeniable advantage over the competition.
Coverage of the race begins at 1:00 PM EST on Saturday, October 30th. The event will air on FS1, MRN.
More information on GREEN LINE AUTOMOTIVE visit:
https://gldauto.com
https://www.facebook.com/greenlinedigitalauto
https://www.instagram.com/greenlinedigitalauto
https://twitter.com/gldauto
Stay updated with Sage by following him on Social Media; Facebook and Twitter and Instagram, or visiting his website online at SageKaram.com.
For more information on JAR, visit JordanAndersonRacing.com, and be sure to follow the team all season on the JAR social channels on Facebook, Twitter, and Instagram.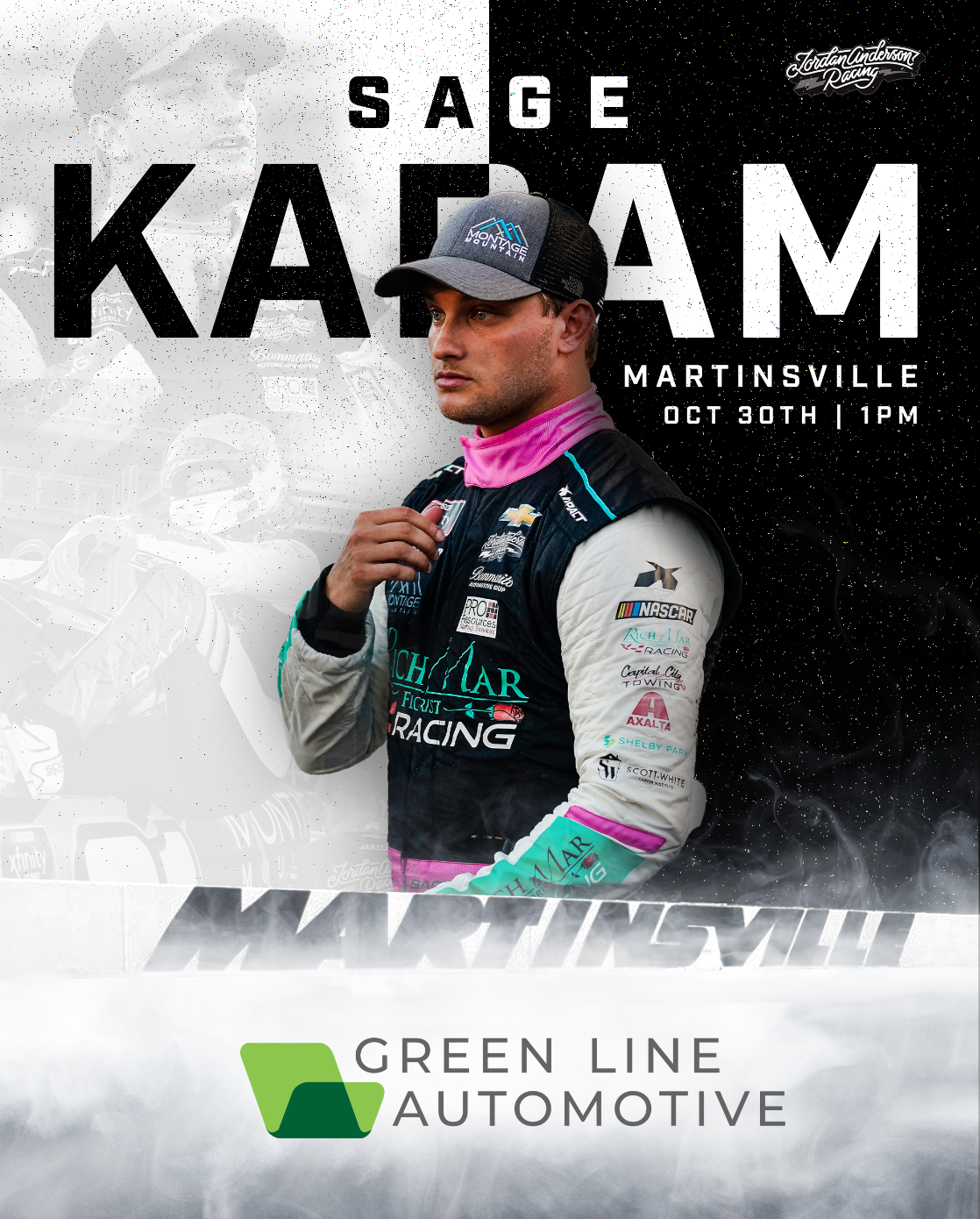 WANT TO CONNECT TO CHAT ABOUT YOUR DIGITAL STRATEGY?
Fill out the form below and someone from our team will reach out to you to set up a time at the event when we can show you what we can do for your specific dealership.