Understanding How Performance Max Campaigns May Impact Organic Traffic
"Why are my branded organic clicks down?" This is a conversation we are having more and more with our automotive clients at Green Line Automotive as Performance Max campaigns (also called PMax) are being more widely used.
Understanding Performance Max Campaigns
Before we talk about how Performance Max campaigns may decrease your organic branded clicks, let's first go over the many benefits of PMax campaigns, and why they are an important part of your marketing strategy and a major part of our automotive paid search offerings.
PMax campaigns use machine learning to optimize ad placements across search, YouTube, Gmail, and more. They are designed to deliver performance improvements by leveraging Google's vast network and machine learning algorithms to target the right audience at the right time.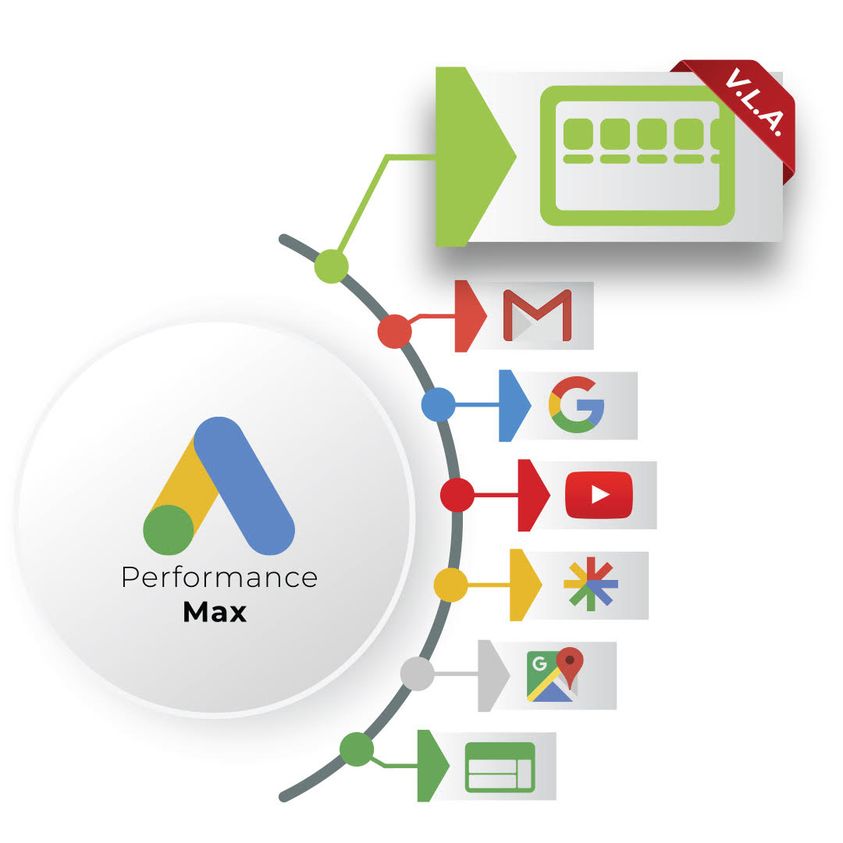 ---
The Benefits of Performance Max Campaigns
As mentioned, Performance Max campaigns come with several advantages for advertisers:
Increased reach: PMax campaigns allow advertisers to extend their reach beyond the traditional search results page, targeting users on different Google platforms like YouTube and Gmail.
Automation and optimization: The campaigns use machine learning to optimize ad placements and bidding strategies, leading to a more efficient use of advertising budgets. In fact, we found that among our automotive clients, phone call leads increased by 387% for Vehicle Ads included in PMax.
Faster ad creation: Advertisers can create a single ad format automatically adapted for various placements, reducing the need for manual ad creation.
Cross-device targeting: Performance Max campaigns are designed to reach users across multiple devices.
---
The Cannibalization of Organic Search Results
However, with all the great benefits of Performance Max campaigns, we have seen an impact on Brand clicks and organic traffic that businesses and brands should be aware of as they monitor organic performance.
The increased presence of ad visibility through Performance Max campaigns means organic results are pushed even further down, making users less likely to click organic results. Especially with vehicle inventory ads now being part of Performance Max and other search results page ad placements, more real estate is now easily consumed by ads. This means that users are more likely than before to click an ad instead of continuing down to organic results.
This is not necessarily a problem, as increased visibility (especially over competitors) for a lower cost is a marketing win; however, dealerships need to be aware they may see a decline in branded organic clicks.
---
Should I Take Action?
No, there isn't any action needed, as Performance Max campaigns offer many benefits and are an essential part of an automotive marketing strategy. It is still best practice to pair search efforts together and to create synergy between paid and organic for the best audience reach possible. The positive is brands are typically earning the top available positions across both paid and organic for brand search, the engagement is simply being shared. With that, it is important to be aware that your organic traffic numbers may be affected, and don't be alarmed if you see this change in organic performance.
Continue to focus on creating high-quality content that aligns with what your customers are searching for (advising on content strategy is part of our automotive SEO packages). While PMax campaigns may decrease branded organic clicks, organic content still serves a unique purpose in your overall marketing strategy by owning additional search real estate and showing for non-branded searches (like "new BMWs for sale in Madison").
About Green Line Automotive:
Green Line Automotive is a digital marketing agency specifically serving automotive dealerships. Our core mission revolves around providing dealers with top-tier automotive advertising solutions, cutting-edge technology, and exceptional service. We empower your dealership to outshine your competitors by offering state-of-the-art technology alongside a completely customizable approach.
Get in touch with us at info@greenline.nyc, fill out the form below, or call us at 833-GLD-CARS for more information.
---
Want to connect about your Digital Strategy?
Fill out the form below and someone from our team will reach out to you to set up a time to connect.