Vehicle Ads Upgrading to Performance Max Starting September 2023
As of September 2023, Google will be upgrading existing Vehicle Ads campaigns to Performance Max campaigns. This transition follows Google's previous move away from Smart Shopping campaigns for retail products and now extends to the automotive industry.
What does this mean for you? With Performance Max campaigns, you'll have access to a broader range of audience and bidding signals, surpassing the capabilities of the current Smart Shopping campaigns that Vehicle Ads are built upon.
At Green Line Automotive, we've had the privilege of being an Alpha tester for this initiative, and we're excited to share that it presents a tremendous opportunity for your automotive dealership. Our test results showed the performance of the Vehicle Ads included in PMax outperformed the Vehicle Ads that were not part of PMax.
VDP Views: +54%
Phone Call Leads: +387%
Submit Lead Forms +199%
Traffic is also up by 53% in click volume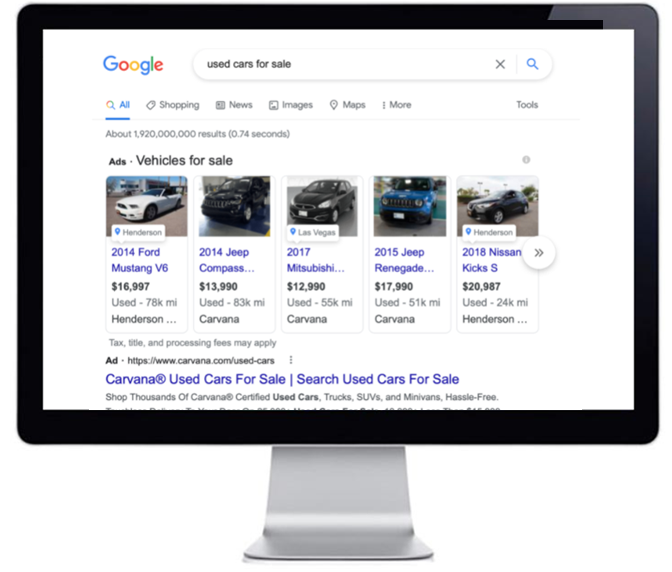 Rest assured, no action is required on your part at the moment. Google will initiate the campaign upgrade process in September. Once the upgrade is complete, we will review the setup and ensure that our standard best practices align with the Performance Max platform.
Key Points:
Vehicle ads campaigns will automatically upgrade to Performance Max starting September 2023.
Performance Max campaigns offer new features, insights, and expanded inventory with the power of Google's AI.
Your existing campaigns with the status "Active" or "Paused" and future end dates will transition to separate Performance Max campaigns.
Campaign settings, including the vehicle feed and budget, will be transferred automatically with comparable functionality.
Previous vehicle ads campaigns will be marked as "Removed," but historical performance data will remain accessible for reference.
Creating new Smart Shopping campaigns for vehicle ads will no longer be possible.
If you're eager to learn more about the performance enhancements and see real-world case studies, we invite you to reach out to Green Line Automotive. Our team is well-equipped to provide you with further insights and information tailored to your specific needs. Stay tuned for more updates as we move forward with this transition.
About Green Line Automotive:
Green Line Automotive is a digital advertising agency created for automotive dealerships. Our mission is to deliver tier-one automotive advertising expertise, technology, and service to the tier-three dealers. We give you an advantage over your competition by giving every dealership the best in technology coupled with a fully customizable approach.
See our premier services such as Automotive Paid Search or contact us at info@greenline.nyc or 833-GLD-CARS.
---
Want to connect about your Digital Strategy?
Fill out the form below and someone from our team will reach out to you to set up a time to connect.