PAID SOCIAL MEDIA
Social media is a critical part of your customer's journey to your showroom. Our paid approach keeps your dealership and inventory top of mind with our audience data and customized creative.
ENGAGE WITH
TECH-ENABLED STRATEGY
---
Paid social media is more than a boosted post. It's identifying the right audience and presenting content that encourages them to interact with your dealership. With our technology and partnerships with companies like Oracle, we can reach audiences based on household income and create highly qualified look-alike audiences.
Relevant content tailored to the optimal audience
Strategic testing will result in the most optimal strategy and account build. Utilization of data and knowledge of the user base will create target audiences for each stage of the funnel.
Creating Brand Awareness + Revenue
From prospect to high-value users, we drive users through the funnel, and always focus on the bottom line. Paid Social is a strong discovery platform while also driving direct response.
Monitor, Optimize, Report, Recommend
Continual monitoring and optimization keeps your business ahead of the competition. Data analysis and performance insights lead to data-supported optimizations that result in business growth.
Customized Inventory Integration
There are several options when promoting your inventory on social media. We'll work with you to create a specific strategy that makes the most sense for your dealership. Most agencies will automate this process without thinking through different campaign structure opportunities that will increase click-through rates and lead quality.
Strategic Placement
Between Facebook and Instagram, there are hundreds of variations you can deploy based on the number of available ad types on either network. We'll optimize your ads by network to make your budget more efficient.
Dynamic Remarketing or Prospecting
Through our customized approach and dedicated teams, we're able to effectively build campaigns that meet your shoppers at every part of the buying journey from prospecting to remarketing.
Connected Digital
In addition to the tag management for search, display, and any other channels you employ - we ensure your Facebook pixel is working collaboratively in your website environment to deliver the highest quality traffic.
Facebook Marketplace
As an official listing partner on Facebook Marketplace - our team will create additional exposure for you and your inventory on Marketplace. With Marketplace, you'll get organic distribution, create tailored experiences, and experience no listing fees or commissions.
Oracle Data Partnership
Through our partnership with Oracle Data Cloud, mostly available to enterprise companies, we can provide best-in-class automotive audiences that enable you to reach in-market customers, active shoppers, and owners of specific body styles, makes, and models.
We are access the same targeting data and demographics companies like Visa, Mastercard, and TransUnion leverage to understand retail behavior.
Audiences we focus on include in-market (new, pre-owned, and lease), last auto purchase, parks and service history, and financial/credit standing.
In-Market
New Make or Body Style
Used Make or Body Style
Buy or Lease
Owners
Make
Body Style
Vehicle Age
Time Since Purchase
Parts & Service
Service and Repair Spending
Parts and Accessories
Finance / Credit
Credit Score Tier Audiences
In-Market Auto Loan
CRM Integration
Our process for CRM integration from your social media ads seamlessly pushes basic customer information from Facebook directly into your CRM. This creates less friction for your customer, and provides your BDC with the most accurate information to follow up with.
Offline Conversions
With our proprietary software, we're able to track offline activity and tie it back to a specific ad campaign. Understanding this behavior is critical when your transactions aren't happening online.
We are also able to prospect and target users based on offline activities using artificial intelligence and location technology.
Case Study
PAID SOCIAL
BMW of Minnetonka
Learn how Greenline Digital was able to help a BMW dealership in Minnesota to streamline and consolidate their paid social media plan to increase traffic and leads.
Case Study | PAID SOCIAL | BMW of Minnetonka
What We Saw
BMW of Minnetonka had a combination of OEM sponsored programs as well an internal custom paid social approach. They were spending nearly $3,000 a month with a silted strategy.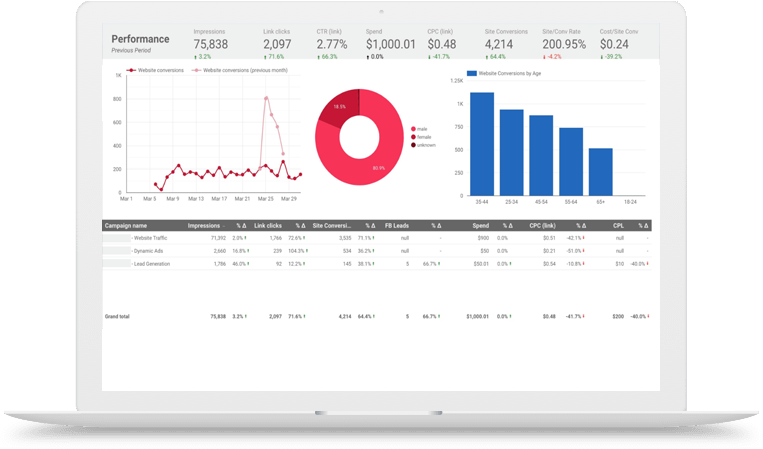 Case Study | PAID SOCIAL | BMW of Minnetonka
What We Did
Combining the latest in inventory integration technology with proper audience matching GLD created a multi-level approach. Our lead gen ads, video ads and collections ads have driven a large increase in traffic and leads.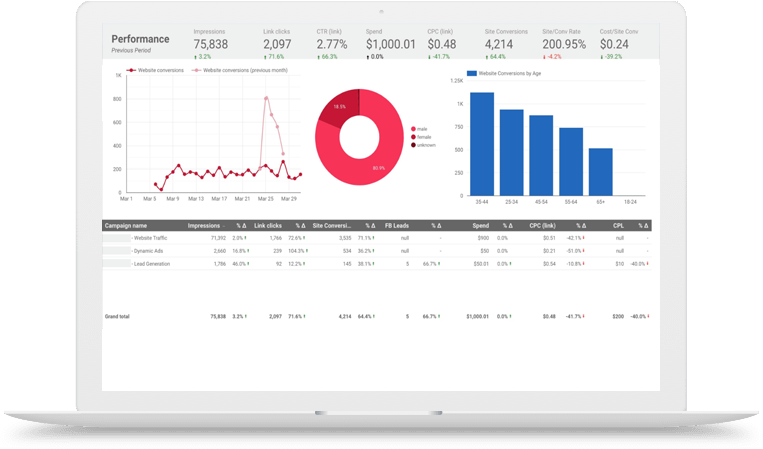 Case Study | PAID SOCIAL | BMW of Minnetonka
Results
71.98% increase in traffic with and equal budget as well as a 44% increase in on site conversions.