GREEN LINE AUTOMOTIVE IS NOW GOOGLE VEHICLE LISTING AD APPROVED
GREEN LINE AUTOMOTIVE IS NOW GOOGLE VEHICLE LISTING AD APPROVED... Now what does that mean?
By Elayna Paap, SEO Director
---
GREEN LINE AUTOMOTIVE is officially an approved partner for Google Dynamic Vehicle Listing Ads. By partnering with us, you can now promote your digital showroom and local inventory ultimately boosting traffic to your website and driving better qualified leads directly from the VDP. You don't have to wait for Google's beta program to take advantage of this new product. Sign up now and see your inventory live at the top of search results.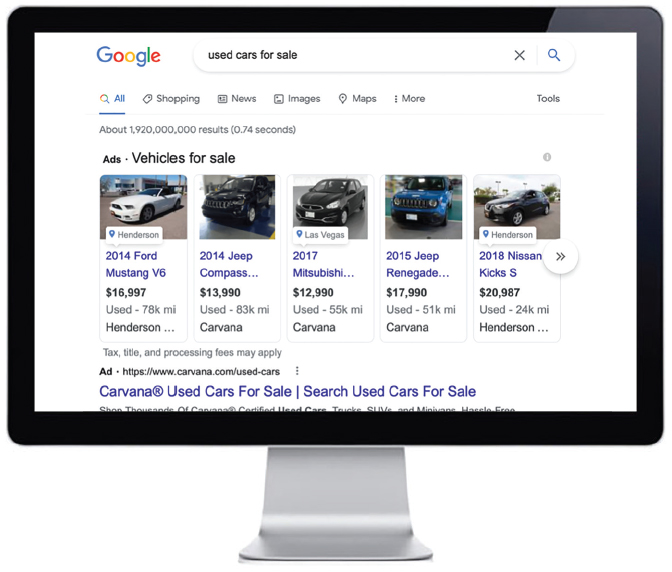 What are Vehicle Listing Ads?
Vehicle listing ads are similar to shopping ads. They are dynamic inventory ads placed at the top of search results that display based on your inventory feed. With GREEN LINE AUTOMOTIVE's custom feed integrations we can integrate into nearly any dealership's inventory without requesting a feed. These ads are different in that they offer a more visual format with your inventory photos as opposed to text ads which display text only only text. Vehicle Listing Ads give more information about the car for sale on your lot within the search result itself to encourage more qualified website traffic.
What are the benefits of vehicle listing ads?
Better qualified leads
Feature inventory information within the search result including year, make, model, condition, and price to help online shoppers make informed buying decisions. VDPs are directly linked to optimize the user experience and encourage the quality of your leads.
More inventory visibility
Millions of shopping-related searches are completed every day. Vehicle Listing Ads appear in the Shopping tab and at the top of search results separate from text ads. This helps your inventory take up more real estate within search results, increasing visibility.
Dynamic updates with available inventory
With our custom feed integrations, your Vehicle Listing Ads are dynamically updated with new arrivals and sold units are removed.
Capitalize on micro moments
Whether people are completing brand, discovery or direct searches, your inventory is displayed.
FAQ
Google Shopping Ads for automotive are called Vehicle Listings Ads or VLAs. GREEN LINE AUTOMOTIVE is a Google Premier partner and we can set that up for you!
We provide a 30-45 day set-up time to create and link all required pieces.
At this time, we are recommending a $2,000 per rooftop with a minimum spend of $1,000.
Yes! We offer Vehicle Listing Ads for your entire inventory and all conditions including new, used, and certified pre-owned.
Cars for Sale in Google My Business is a different live inventory product we offer a' la carte and within our site optimization packages. Vehicle Listing Ads are a part of our paid search services and provide even more inventory visibility within search results.
WANT TO CONNECT ABOUT VEHICLE LISTING ADS FOR YOUR DEALERSHIP?
Fill out the form below and someone from our team will reach out to you to set up a time at the event when we can show you what we can do for your specific dealership.