Trends and Developments in Electric Vehicle Markets:
What Auto Dealers Need to Know.
The automotive landscape is undergoing a seismic shift, and it's being powered by electricity. Electric vehicles (EVs) are no longer a novelty; they are becoming an integral part of the industry. For auto dealers, this represents both a challenge and an incredible opportunity. We'll dive into the latest trends and developments in electric vehicle markets and explore what auto dealers need to know to stay ahead in this fast-paced game.
The EV Boom: A Global Phenomenon.
The global push toward sustainability and reducing carbon emissions has fueled the rapid growth of the EV market. Government incentives, stricter environmental regulations, and growing consumer awareness of climate change have all contributed to this surge.
BloombergNEF predicts that by 2025, EVs will account for 10% of global passenger vehicle sales, rising to a whopping 28% by 2030.
EV Sales Are on the Rise.
One of the most significant trends and indicators of the EV revolution is the soaring sales figures.
In Q2 2023, EV sales set a new record, accounting for almost 300,000 sales, a record for any quarter and an increase of 48.4% from Q2 2022.
The costs of EVs have decreased 20% YOY vs June 2022. As an auto dealer, this means you need to consider expanding your EV inventory to meet the growing demand.
A recent survey found that 68% of car buyers are considering purchasing an EV for their next vehicle, reflecting a significant shift in consumer preferences.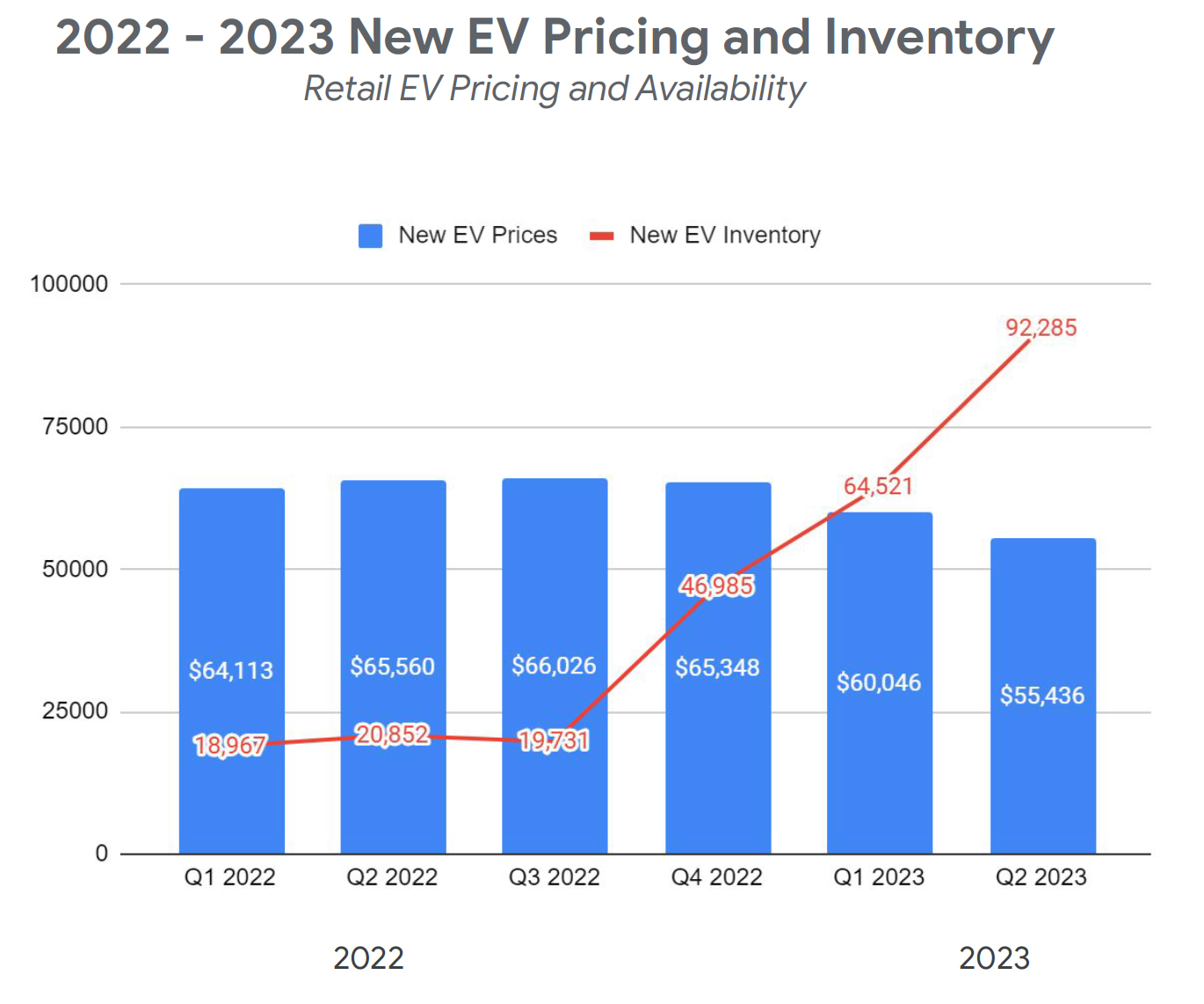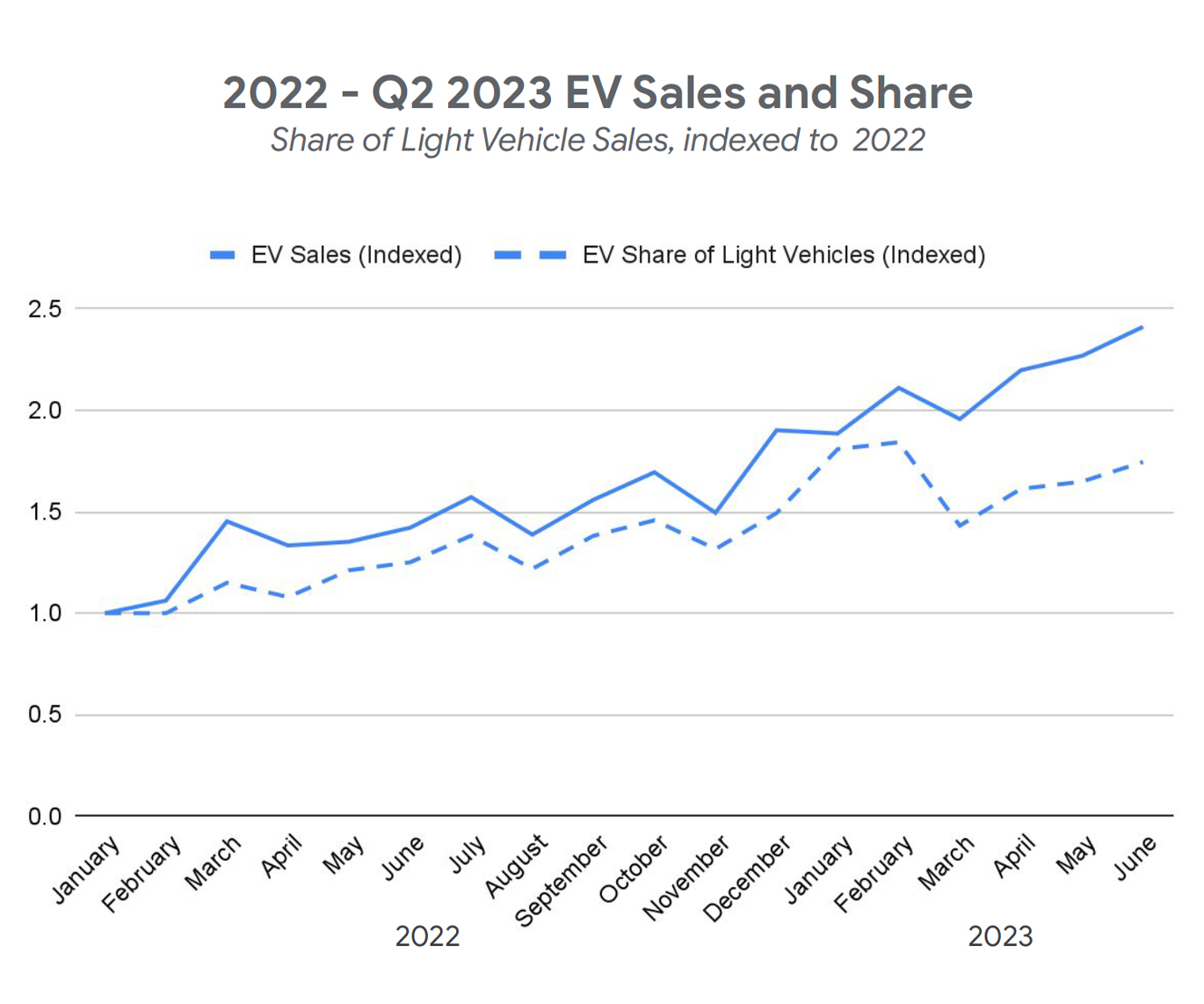 Understanding the Consumer Perspective.
Today's car buyers are increasingly eco-conscious. They are not only looking for fuel-efficient vehicles but also considering the environmental impact of their choices. To keep up with the trends and developments in electric vehicle markets, auto dealers need to understand and cater to this shifting consumer mindset. Highlight the environmental benefits of EVs and make sure your sales team is well-versed in explaining these advantages.
82% of consumers believe that electric cars are better for the environment.
74% of car buyers say that lower emissions are an essential factor in their decision to buy an EV.
---
Charging Infrastructure Is Key.
One of the challenges of EV adoption has been the availability of charging infrastructure. Range and charging anxiety causes 63% of new car buyers to not consider EVs. However, this is changing rapidly. Being knowledgeable about the local charging infrastructure can be a significant selling point for your dealership. Here are some of the developments in electric vehicle charging:
As of 2023, there are over 2.3 million public charging points globally, a remarkable increase from just 1.5 million in 2022.
The International Energy Agency predicts that by 2030, there will be more than 40 million public charging points worldwide, significantly reducing charging-related concerns.
---
Educating Your Sales Team With the Latest Trends and Developments in Electric Vehicle Markets.
Selling EVs is different from selling traditional gasoline-powered vehicles. Your sales team needs to be educated about the unique features of EVs, such as battery life, charging times, and the cost savings associated with electric driving. They should also be up to date on all of the current stats and trends in the electric vehicle market. Offering incentives and training to your sales staff can make a substantial difference in your EV sales figures. Here are some quick EV facts your sales team could leverage:
Electric vehicles can save consumers up to $1,000 per year on fuel costs alone, according to the U.S. Department of Energy.
The resale value of EVs is consistently higher than their gasoline counterparts, making them a wise investment for buyers.
---
Tailor Your Organic and Paid Media Strategy.
To increase your electric vehicle (EV) car sales through search and social marketing efforts, you'll need a comprehensive strategy that targets potential buyers, educates them about the benefits of EVs, and showcases your dealership as a trusted source. To understand these strategies more in-depth, read our post on electric vehicle marketing strategies.
The electric vehicle revolution is not on the horizon; it's here. Auto dealers who pay attention to the trends and developments in the EV market and adapt their business strategies accordingly will position themselves as leaders in the industry. By staying informed, educating their teams, and providing top-notch service, auto dealers can navigate the EV landscape successfully and be at the forefront of this automotive transformation.
---
Want to connect about your Digital Strategy?
Fill out the form below and someone from our team will reach out to you to set up a time to connect.